How to convert PDF to Notepad file on Windows?
Do you want to find, copy or index the texts of your PDF documents? If so, you should convert PDF to Notepad format first.
Cumbersome Method
1.
Browse in File Explorer and double-click your PDF file to open it.
2.
Press <Ctrl+A> to select all texts.
3.
Press <Ctrl+C> to copy out the selection.
4.
Run Microsoft Notepad program (press <Win+R> -->> type "notepad" -->> press <Enter>).
5.
Press <Ctrl+V> to paste the copied texts.
6.
Save all texts as the .txt file in Notepad (click "File -> Save" or press <Ctrl+S> -->> target to the appropriate directory -->> input a filename -->> click <Save> button or just press <Enter>). You may need to use original PDF filename for Notepad file, then you need to do the following extra actions:
1)
Open Microsoft File Explorer and enter the PDF containing folder.
2)
Select PDF file, and Press <F2> to rename it.
3)
Press <Ctrl+C> to copy PDF filename without extension.
4)
Press <Alt+Tab> to switch to the Notepad application.
5)
Press <Ctrl+V> to paste the filename to MS Notepad's "Save As" box.
Above operations are just for convert ONE PDF to editable text file. If you need to convert 200 PDF documents, it's a very insipid job, and will spend you a lot of time.
More Seriously
A few PDF docs may have copying limitation, in this case, even you want to spend the time, but it is powerless to finish that.
You may be unable to retain original format and layout of the PDF file by copying text.
Now, I will guide you to finish this work, just
simply, quickly and accurately
:
Simple, Quick and Accurate Way
Step 1:
first, you need to download the PDF to notepad converter:

Get PDF to Notepad Converter

Step 2:
click <Add PDF files...> button to add the PDFs which you want to convert to editable text documents, or just drag-and-drop them to the blank listbox.
Step 3:
click the biggest <Convert all> button, and waiting for done.
In short, just drag-and-drop and click a button! It's very simple and quick. The results look like: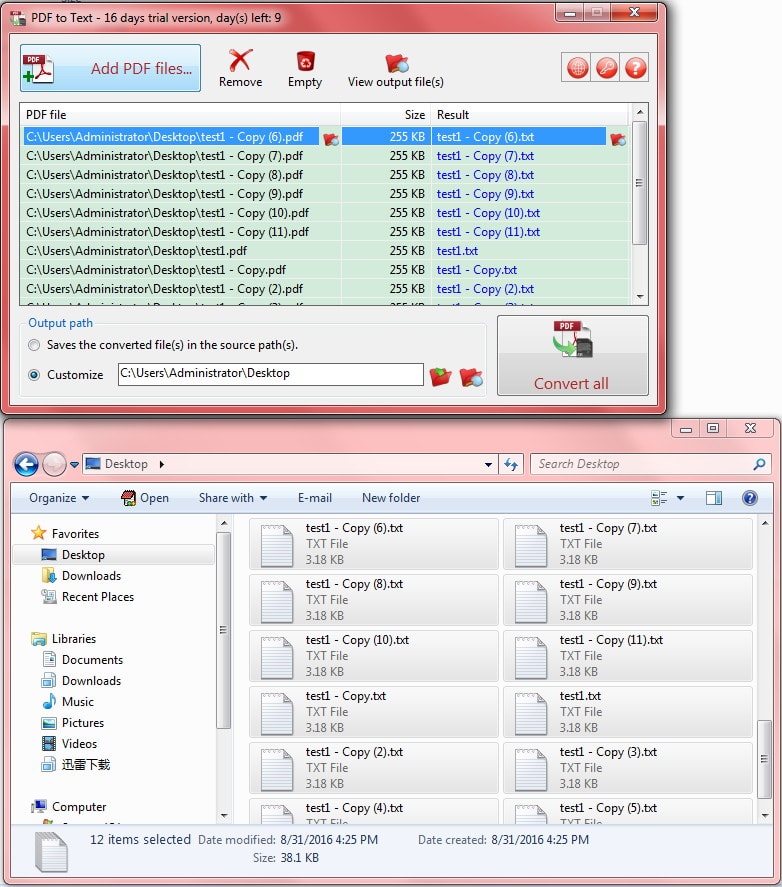 Screenshot: convert PDF to editable text file.
I think it's a magic software - I converted these 12 PDF files in only four seconds! If you want to enjoy it, just download this
PDF to Text Converter
at:

Get PDF to Notepad Converter

See Also