An Outstanding PDF Text Extractor for Normal / Skilled Users, Even Programmers
For some reasons, you may need to extract PDF text. Here I introduce an excellent PDF text converter to do that, TriSun Software produced.
This converter can work for normal Windows users, IT professionals, even the software developers. Because it has two working modes: standard UI and CLI (Command Line Interface).
Standard UI Mode
For the standard UI mode (used for normal Windows users), just add PDFs (by click button or drag-and-drop), and then click <Convert all> to convert PDF text. Also, you can remove the selected PDFs from the list (only remove from UI, does NOT delete any file from your hard disk), empty the listing, set the output location and view the outputs directly. I think there is nothing more to say, because it's really easy. Take a glance: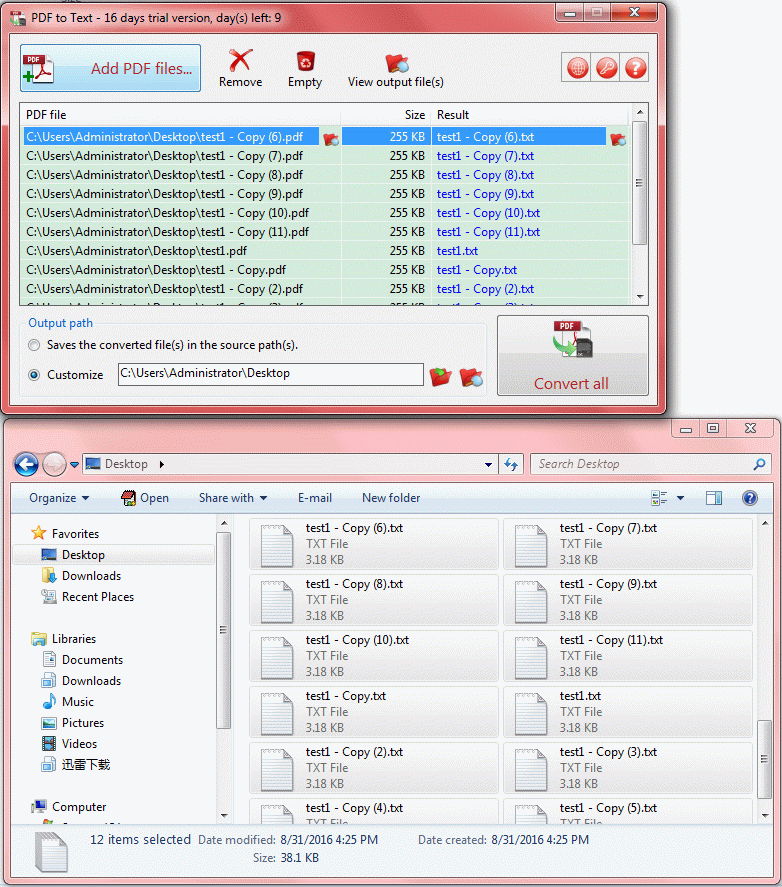 Screen 1: the results of PDF text extractor - the extracted PDF text are stored in the .txt files with the same filenames.
Use CLI Mode to Convert PDF Text
To learn and use the CLI mode for skilled IT people and programmers, first, click the help icon and select the corresponding menu item, this action will guide to its online help, and there is a detailed documentation for how to use the CLI of this PDF text converter.

Screen 2: open the Command line interface of this PDF text extractor.
Or, you can directly view the CLI help here:
https://www.pdf-helper.com/pdf-to-text/help.htm?selectedTab=cli
It just has 5 segments: Synopsis, Arguments, Usage, Note and Examples, each one is important, please read it carefully, just about five minutes.
For the advanced PC users or programmers, it is easy to understand and perform. But please note that the CLI mode can be used for the general PC users also. See the "
a. Manual:
" section under "
3. Usage
". This way is totally designed for the normal users, if you want to try an advanced method to convert PDF text, this is a good choice.
More Than Extracting PDF Text
As you see, it is quite good because provided the UI and CLI modes both to extract PDF text, and most other PDF text converters only provide you with the UI mode.
But this feature is just a basic function of it. More than converting PDF text are: really fast (you can compare other PDF text converters), supports batch mode, intimate design (even the familiar PDF RED), and more, just waiting for you to experience. First, get TriSun Software's
PDF to text converter
here:

Download This PDF Text Extractor for Windows Now!

See Also