How to read text from PDF files on Windows?
Sometimes, you may need to extract text from PDF file for indexing, searching or copying purposes.
Traditional Way
But the operation of extracting text from PDF files is relatively cumbersome:
1) Open a PDF file.
2) Select all text.
3) Copy text.
4) Open Notepad.
5) Paste text.
6) Save text as a .txt file. In this step, you usually want to keep the same name for the.txt file, so, you need to:
a) Locate your PDF file in Windows Explorer.
b) Rename the PDF.
c) Copy out the filename.
d) Paste filename to Notepad's save dialog box.
As above, that's the steps just for pulling text from ONE PDF. So, if you need to extract text from 100 PDF files, wow, it will be a very daunting and dull work!!
That's not all, more than this is: some PDF files have the copying out limitation - do not allow you copy the text directly!
So, you need find out a new method to do this, follow me:
New Method - Easy, Fast, Work in Batch Mode
Step 1:
to extract text from PDF file, download, install and run the PDF to Text converter (PTT below) first, very small, just one minute.

Download PTT to Pull Text from PDF Files

Step 2:
drag-and-drop the PDF files which you want to pull their texts from Windows Explorer to PTT's listbox.
Step 3:
click <Convert all> button to extract text from PDF files, and wait for it done. If there are a lot of PDFs for converting, have a coffee, else, just wait a moment.
That's all: drag-and-drop and click a button! It frees your hands and saves a lot of time. Your final work like this: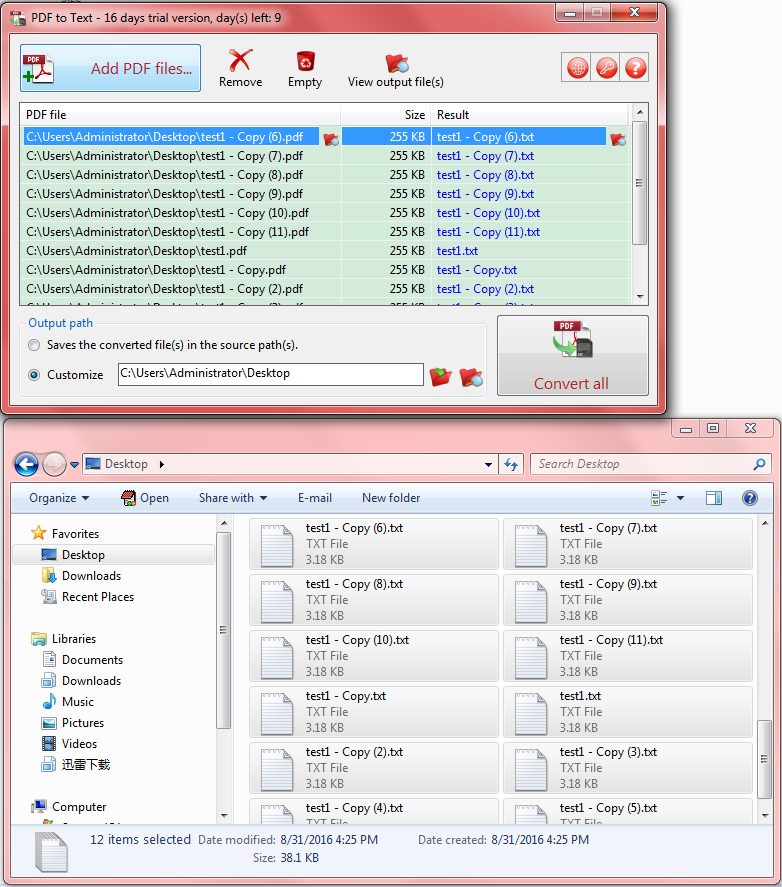 Screenshot: read text from PDF files.
Amazing! I pulled text from above 12 PDFs only used 4 seconds! Real easy and quick, I think you may want a try now, just download
PDF to Text
at:

Download PTT to Read Text from PDF Files

See Also